Flowers for bumblebees
March - April
Apple
Bluebell
Broom
Bugle
Cherry
Erica carnea (heather)
Flowering Currant
Lungwort (Pulmonaria)
Pear
Plum
Pussy Willow
Red dead-nettle
Rosemary
White dead-nettle
May - June
Alliums
Aquilegia
Birds-foot trefoil
Bugle
Bush vetch
Campanula
Ceanothus
Chives
Comfrey
Cotoneaster
Escallonia
Everlasting Pea
Everlasting wallflower
Foxglove
Geranium
Honeysuckle
Kidney Vetch
Laburnum
Lupin
Monkshood
Poppies
Raspberries
Red Campion
Roses (singles)
Sage
Salvia
Thyme
Tufted vetch
Meadow Cranesbill
White Clover
Wisteria
Woundwort
July - September
Black horehound
Borage
Bramble
Cardoon
Catmint
Cornflower
Delphinium
Heathers
Hollyhock
Hyssop
Knapweed
Lavender
Lesser burdock
Marjoram
Mellilot
Mint
Penstemon
Phacelia
Polemonium
Purple loosestrife
Red bartsia
Red clover
Rock-rose
Sainfoin
Scabious
Sea Holly
Snapdragons
St. Johns Wort
Sunflower
Teasel
Thistles
Viper's bugloss
Bee Friendly Bedding Plants
For early spring you can have flowering trees and shrubs as well as heathers, rosemarys, and violas.
Thompson & Morgan have some great plants that can help feed bees during the spring.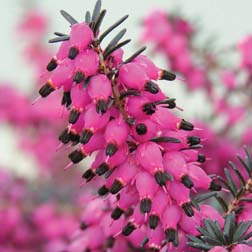 Heather 'Lucie' - Part of the Alan Titchmarsh Collection - 3 x 8cm potted plants
£14.99
Heathers aren't difficult to grow. 'Lucie' is a darleyensis type, which tolerates ANY well-drained soil so you can grow it almost anywhere. Already awarded The Heather Society's Premier Award, which considers flower colour, size and longevity, habit and hardiness, this is the beginning of a new generation of heathers. Try it today - you're sure to enjoy these fabulous hardy perennials.
Thompson & Morgan has these new lines today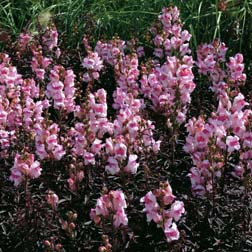 Antirrhinum majus 'Bronze Dragon' - 1 packet (100 seeds)
£2.69
These bushy, dwarf plants have the darkest, almost black foliage we have ever seen on an Antirrhinum! Bred by Thompson & Morgan, Bronze Dragon looks almost as attractive before flowering as it does when smothered in its gorgeous, purple and white bicoloured blooms. Truly outstanding in borders or containers and can also boast very good rust resistance.
Good for bees.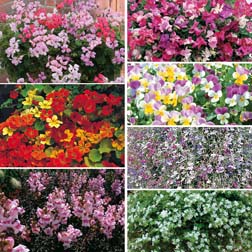 Baskets, Pots & Tubs Collection - SPECIAL OFFER - 7 packets - 1 of each variety
£7.99
Here's a great deal to create a big splash of colour! Thompson and Morgan's spectacular choice of basket, pot and Flower Pouch® varieties will transform your patio or decking area into an attractive and interesting place to sit, relax and enjoy your garden.
Collection comprises one packet each of:Geranium Summertime Mixed (6 seeds)Nasturtium Climbing Mixed (40 seeds)Antirrhinum Bronze Dragon (100 seeds)Sweet Pea Sugar 'n' Spice (25 seeds)Viola Sweeties (25 seeds)Bacopa Snowtopia White (10 pellets)Lobelia Cascade Mixed (1500 seeds)
All will be loved by bees and other insects.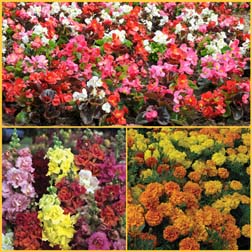 Bedding and Border Variety Pack - 36 plugs - 12 of each variety £10.99
Everything you need for your beds and borders! This fabulous collection will fill your garden with colour that will last all summer long.
Collection comprises:
Begonia 'Organdy' - A striking range of flower colours and contrasting rounded foliage in bronze and green.
Antirrhinum 'Madame Butterfly' - Unique, double snapdragon petals prevent insects from pollinating the flowers, so they last much longer than single-flowered varieties.
Marigold 'Zenith' - These vigorous, bushy plants have outstanding weather resistance making them ideal for planting en-masse.
A really lovely plant for insects is the Buddleja davidii
it's a strong growing shrub that is perfect if you have a corner of the garden where nothing else sees to do very well. Buddleja is a strong growing plant that will create plumes of flowers for insects of all types to enjoy.
Calendula officinalis is another great bee friendly plant that is well worth planting. Known as the English marigold look out for single bloom varietys as double blooms like pompoms are very unfriendly for bees.
This one has the joy of being a perennial so you can plant them and leave them in for year after year bee friendly flowers: Thompson & Morgan has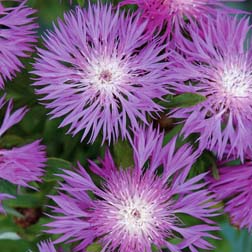 Centaurea dealbata - 1 packet (80 seeds) £1.99
Which is a very attractive clump forming lavender pink cornflower, with the unusual characteristic of being perennial and flowering In the first year. Easy to grow. adding height and interest to borders, as well as making a superb border cut flower.
Height: 80-90cm (32-36in).
First Year Flowering Perennial,
Flowering in June/July.
For a real variety of wild flowers you could plant some of this Meadowland Mixture -
It'll provide a stunning selection of insect friendly flowers.
Grow your own wild meadow! Perfect for a corner of your garden and ideal if you have poor soil as wild flowers thrive on the worst soils!
Back to main page of BeddingPlantOffers for lists of plants and more articles
Bees and other pollinating insects need all the help we can give them!
Single flowers are better for bees. Anything that has been bred to produce more petals or double flowers tends to have very little in the way of pollen for bees and other insects.
Without bees the food crops will not be pollinated.
Bees, hoverflies, butterflies and moths all need nectar.
You don't have to dedicate your entire garden - just a few select plants can really help!
A wide shallow dish of water is also an essential for encouraging wildlife in. Not only do birds need a drink, but so do bees. They need many litres of water to make honey! So a wide shallow edged container with water in is a real help to them!
List of Bee Friendly plants at T&M
If you don't fancy becoming a bee keeper with a hive there's still a lot you can do to help solitary bees.
Some like nesting inside hollow stems of plants and you can creat bee hotels for them with bamboo canes bundled up together or by cutting down those plants that have hollow stems and not tidying away the stems to the compost bin. They like holes that are under 1 cm in diameter best. You can buy special bee nests but using natural materials in your garden has zero cost implications for you.
Some like soil to dig a nest in so if you see bees visiting an area in your garden then look closely to see if you can spot the tunnels and then leave well alone!
Of course if you find your local bee keeping society and do a training course you could learn to keep bees and it's a fascinating hobby and you'd be able to produce your own honey too!
One of the most exciting hints for lazy gardeners is to not mow the lawn as often. In the UK we often mow the lawn as soon as the clover starts opening - but if you leave it a few weeks then the clover will be covered in bees enjoying the pollen.