Herbs for bedding plants
Thompson & Morgan have a fantastic value herb collection that would make a very interesting bedding plant display.
So why use herbs as bedding plants?
Rosemary is a perrenial so it is a great plant to have to add structure. It can grow quite tall too and can be grown from cuttings so once you have one you can produce more either for other bits of your garden or to give away to friends.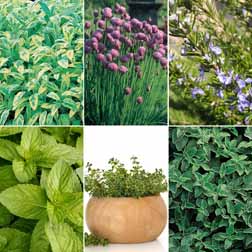 Herb 'Mixed Culinary Collection' - 6 plants - 1 of each variety £9.99
Being able to add fresh herbs to your cooking is a fantastic way of improving the flavour of everything you cook. There's something so satisfying about nipping out to your garden and picking a few sprigs of herbs to throw in to a roast pan with meat or potatoes!

Put them in a sunny border or plant them all together in a tub to create a fantastic herb garden.
Rosemary
Chives
Sage Golden
Thyme 'Golden Queen'
Oregano
Parsley Flat Leaf
Rosemary - proper name Rosmarinus officinalis, is a lovely shrub for the border. It's easy to look after. You can prune it as often as you need the herb once it's a reasonable size plant, but in the early years don't cut too much off it!
It loves sunshine, doesn't need much watering at all. It will grow to over 1.5m tall too if you let it!
Once establish it's a fantastic plant with it's beautiful bee friendly blue flowers early in the spring. Use sprigs of the pine needle like leaves in all sorts of cooking with meats or even just with the roast potatoes!
Chives are fantastic chopped up in all sorts of food but when they are left to flower in the garden you'll find the prettiest pink flowers that bees just love. Split up bunches of chives and replant to spread them about or save the seeds and plant these. The flowers are very pretty and worth of including in a border!
Sage golden is a pretty form of Salvia officinalis. It's a perennial evergreen plant with lovely flowers. Useful in cooking as well as being attractive to insects.
Bees love thyme and it's a wonderful herb to cook with too. As with most herbs freshly picked thyme can be rubbed in your fingers to get the scent out and you can enjoy the lovely smell of it. Throw into stews and use in roasts for a fab flavour.
Oregano has lovely flowers that attract plenty of insects.
Parsley is a good filler plant for making up tubs and borders. Useful in cooking too. No flowers until the second year.