Bedding plants to celebrate the Queen's Golden Jubilee
Thompson & Morgan has this petunia available in red white and blue for creating a ceebration bed display to celebrate the Queen's Golden Jubilee.
Red White and blue are the colours of the union jack flag and it's these three colours that are in this petunia mix.
You could just mix them up in baskets or boxes or form a union jack flag in a flower border! This would really impress your neighbours and show you have some really great talents and imagination.
By using this patriotic mix you'll find that your garden looks fantastic. Using one sort of flowers in a display creates a very smooth even professional look, whilst varying the colours in such a bold way is innovative and eyecatching.
People will admire your colours in the garden this year if you buy these fantastic value plants and plant up a right royal display!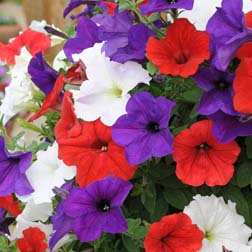 Petunia 'Easy Wave Union Jack Mix' - 36 plugs
£4.99
NEW in 2012
Flying the flag for The Queen's Diamond Jubilee & London Olympics 2012
Create a spectacular, patriotic display for your hanging baskets, Flower Pouches, window boxes and patio pots.
This is a fantastic value vigorous Petunia. It's called 'Easy Wave Union Jack Mixed' and is great value.
Fast growing and tolerate of both heat and cooler conditions, blooming freely without the need for cutting back they are the perfect summer bedding plant.
Enjoy their colourful spreading mounds of foliage smothered with colourful petunia flowers all summer long.
Height: 30cm (12"). Spread: 60cm (24").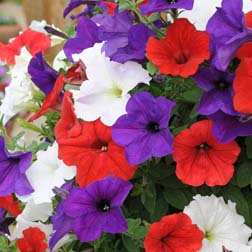 Petunia 'Easy Wave Union Jack Mix' - 72 plugs
£7.99
Same plants, just more of them. Ideal for a bigger display.