Echium vulgare is also known as Viper's Bugloss
It's a fantastic bee friendly plant with beautiful violet blue flowers.
Viper's Bugloss is considered the very best plant to attract bumblebees.
This means it's an essential for every garden in the Uk. It is sometimes included in wild flower mixes but it is worth planting on it's own.
It flowers from June-August.
There are several types -
Echium vulgare 'Blue Bedder' Viper's Bugloss, Blueweed
Hardy Annual
Echium pininana
Tower of Jewels, Giant Viper's Bugloss, Tree Echium, Echium pinnifolium
Hardy Biennial Exceptionally tall flower spikes packed with either rose or purple-blue flowers, interspersed with silver-green lanceolate leaves.

p. alba Snow Tower - Rare white-flowered form of this popular garden giant! Flowering in the second year.
Thompson & Morgan has these fantastic value seeds available.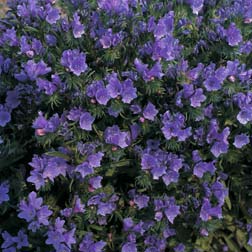 Echium vulgare 'Blue Bedder' - 1 packet (200 seeds)
£1.99
Glorious blue flowers buzzing with bees. A perfect bee friendly plant for your garden. Plenty of seeds to grow a few for your neighbours too.