An alternative approach to doing formal bedding plants is to grow wild flowers.
You can of course buy plug plants of wild flowers ready to plant out but these cost more. A simple and easy way is to buy see and plant it.
To prepare for wild flowers you have to un-enrich the soil. It sounds crazy but wild flowers almost all love poor soil. The worse it is, the more they thrive. This means removing as much of the good top soil as possible. Put this in another area of your garden and let the other plants enjoy it! Top nectar flowers thrive on very poor soils even pure chalk!
Don't buy seed mixtures that have grasses in. Grass needs little help - seeds will probably be in soil already so don't add to it as they can really smother flowers.
Oneof the most successful hints discovered is to introduce ''Yellow Rattle'' which a semi-parasitic annual of grass which when established will help to control the grass.
You can buy yellow rattle from Wriggly Wrigglers in different size packets:
Yellow Rattle, 1g Seed £1.60
Yellow Rattle, 3g Seed £3.25
Yellow Rattle, 10g Seed £8.60

Break up the surface and scatter seeds according to the instructions on the packet. you can
You can even buy wildflower turf to get you started easily! Buy just a single roll or a whole field full!
Wriggle Wrigglers has this new product today
Wildflower Turf, Single Roll (approx 1.25 sqm)
£27.70
Easiest way to convert an area of your garden into a wildflower meadow!
Once you've cleared the ground you just need to roll out the turf, water it from time time then sit back and watch it grow! The native flower seeds mixed into the turf will give you wildflowers from early spring right through to autumn which will provide a fantastic habitat for birds, butterflies and insects. Whilst you're waiting for your turf to bloom you can easily add a few plug plants to it or even plant bulbs underneath it. And it doesn't matter how large or small an area you want to convert... the Wildflower Turf is supplied in easy to use rolls, each roll covering approximately 1.25 square metres.
The actual roll size is 77cm wide by 1.63m long. So, you can order just as much as you need, whether it is a single roll or a full pallet of 80 rolls! They use a 50:50 mix of wildflower and grass seed so that you get a high proportion of flowers. All seeds used are, of course, from native stock. The grasses used in the turf form a dense sward which acts as a weed blanket, giving the wildflower plants a head start against outside competition, and have been chosen to complement rather than overwhelm the flowers. Because Wildflower Turf is grown on a plastic base all the root development is contained within the turf itself, creating a good mat of roots. This gives it great strength which in turn makes it easy to handle and lay. And because it hasn't been cut from topsoil it hasn't lost its roots, so it establishes itself really quickly in your garden. Maintenance, apart from watering it during establishment, is minimal... no weeding or fertilising should be necessary, just an annual cutting in autumn. The plants in flower will vary through the spring and summer according to the different species of flowers in the turf. The emergence of flowers and the type of plants that flower will vary from year to year according to temperature, moisture and available nutrients. This will ensure that no two years are the same (as is the case with true wild flower meadows) and gives a constantly changing landscape. Particularly when turf is young it can look patchy in places but withhin 4 weeks it roots in and looks wonderful. The time of year laid will affect the flowering of the turf
As well as this instant mix if you fancy sowing seeds then you have lots of choice:
Thompson & Morgan has meadow mix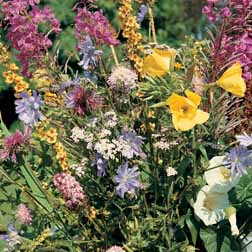 Meadowland Mixture - 5 packets (5 grams) £11.99
Over 30 wild flowers, suitable for newcomers to wild flower growing. Create a flowering meadow or just a natural patch in the flower garden. Along with some of the prettiest wild flowers are nectar and food plants for bees, butterflies and other insects to make a haven for wildlife. Some plants flower the first summer, the rest in spring, summer or autumn the next year. Height: 20-150cm (8in-5ft). Average Height: 60cm (2ft).

Contents include: Ladys Bedstraw, Meadow Buttercup, Corn Chamomile, Wild Clary, Cowslip, Crane's-Bill, Ox-eye Daisy, Foxglove, Harebell, Corn Marigold, Field Scabious, Teasel, Toadflax and many others.

Please Note: Even though wild flowers they should not be scattered in the wild without the authorisation of the landowner.
After flowering take note to remove the haycrop each year is essential - this means mowing down the grass and taking it away.
By being careful and collecting wild flower seed as it ripes you will be able to save seed for your next years meadow - that's if the plants don't drop the seed in readyness themselves! Don't collect all the seed. You don't need a huge amount. You could share some with a neighbour if they have admired your meadow.
Some people object to wildflowers as they are worried they will 'contaminate' their lawns and for some reason people love smooth even lawns with no flowers in.
Reassure them that they won't spread on the wind and that if they have good soil then it is unlikely wildflowers will want to grow there.
People often worry about dandelions spreading - these will! We don't consider them a wild flower but a weed as their being allowed to turn to fluffy white clocks will frustrate and annoy your neighbours so it's best not to encourage dandelions at all.
Wriggly Wrigglers has Flower meadow seeds in different size packets
10g £3.70
20g £6.40
50g £10.75
250g £42.70
500g £75.00
1kg £139.00

Wriggle Wrigglers seed has a fantastic mix of wild flowers
Flower Meadow Seed Mix,
This wonderful Flower Meadow Mix contains the highest proportion of ornamental and flowering species seed to give even more visual appeal. The sowing rate is approximately 2g per metre.

Flower Meadow Seed Mix contains 65% wild flowers
(including Agrimony, Corn Chamomile, Cornflower, Knapweed, Common Mouse Ear, Pignut, St. Johns Wort, Cats Ear, Rough Hawkbit, Oxeye Daisy, Fairy Flax, Birdsfoot Trefoil, Ragged Robin, Musk Mallow, Ribwort, Common Milkwort, Cowslip, Self-heal, Meadow Buttercup, Yellow Rattle, Common Sorrel, Betony, Devils Bit Scabious, Goats Beard and Red Clover) with
35% grasses and sedges (including Common Bent, Sweet Vernal, Quaking Grass, Soft Brome, Crested Dogs Tail, Yorkshire Fog, Yellow Oat Grass and Glaucous Sedge).
They also do a Grassy Meadow Seed Mix too which contains 49% wild flowers (including Knapweed, Common Mouse Ear, Cats Ear, Rough Hawkbit, Oxeye Daisy, Fairy Flax, Birdsfoot Trefoil, Ribwort, Common Milkwort, Cowslip, Meadow Buttercup, Yellow Rattle, Common Sorrel, Goats Beard and Red Clover) with
51% grasses and sedges (including Common Bent, Sweet Vernal, Soft Brome, Crested Dogs Tail, Yorkshire Fog, False Oat Grass and Common Sedge).
As well as this they do a Cornflower Meadow Seed Mix, too. This seed mix contains the pink of Corncockle, the blue of Cornflower, the glorious reds of Poppy, the vivid yellows of Corn Marigold and the clean whites of the beautifully scented Corn Chamomile. With a small amount of Farmer Phil's home grown corn varieties to add that little bit of extra interest, the ripening seed is a favourite food for finches to feed to their young. Sow in autumn or spring at 3gm per square metre, rake into the surface and water if dry. If autumn sown you may get more Poppies and Corn Marigold, but the end results are always fantastic.
- Back to main page of BeddingPlantOffers for lists of plants and more articles
Simple steps to beautiful wild flowers
- remove good soil
- plant Yellow Rattle - buy it from Wiggly Wigglers
- sow wild flower seeds